DIY Summertime Dog Treats
Posted by PET FRIENDLY FLOORING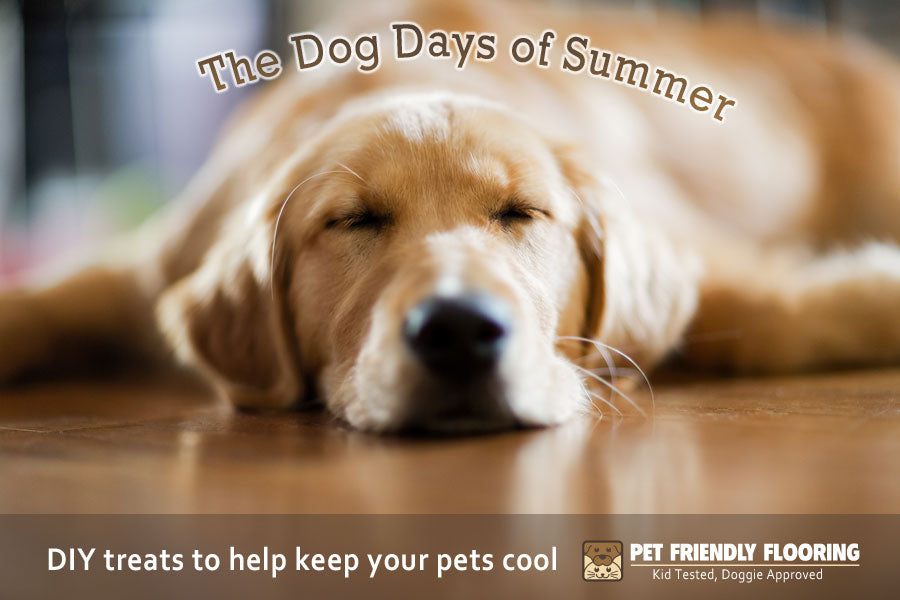 The dog days of summer are upon us, and let's face it, the heat takes a toll on all of us! Help your pooch and feline friend keep their cool with some of these doggy-licious summertime treats thanks to the Banfield website
Peanut Butter Pupsicles for Dogs
Ingredients:
4 cups rice milk or vanilla yogurt
1 medium mashed banana or1 6oz. jar of baby fruit
2 tbsp. honey
2 tbsp. smooth peanut butter, without salt
Directions:
Mix ingredients well in a blender, then pour into 3 oz. paper cups or ice cube trays. Do not use popsicle sticks of any kind! Freeze for four hours or more. When ready to serve, tear off the paper cup or pop out of tray and place pupsicles in a bowl.
Nutritional Information:
Protein: 17.74%
Fat: 19.88%
Carbohydrates: 62.38%
Calories for Entire Recipe (please create portions appropriately): 1302
Purr-fect Puff Pops
A tail-twitching, whisker-lickin' treat that is sure to get a meow from your favorite feline!
Ingredients:
1 hard-boiled egg
1⁄2 cup of honey
1 long sliced carrot
6-ounce can of tuna in water
Directions:
Mash the hard-boiled egg and put it into a bowl. Add honey, carrot and tuna. Mix together and roll into marble-sized balls. Place the puffs in a sealed container and keep refrigerated until they turn into chilled pops. Then serve.
Serving size:
1 puff pop for an adult cat and 1⁄2 pop for a kitten.
Nutritional Information:
Protein: 21.65%
Fat: 17.80%
Carbohydrates: 60.55%
Calories for entire recipe: 972
If your pet has a pre-existing medical condition, consult your veterinarian before adding a new food to your pet's diet. Also, these recipes is for intermittent or supplemental feeding only and is not a replacement for a complete or balanced diet.
Pet Popsicle can be made out of all kinds of things your dog (or cats) eat normally, so experiment to see what your dog likes best.
The frozen Kong-style toys make a great cool-down treat for when you will be away for a few hours.
Try treats suspended in water, watered down wet food and favorite frozen veggies.
Avoid: onions and onion powder, grapes and raisins, salt, macadamia nuts, tomatoes, potatoes, rhubarb leaves and stems, avocados and anything else on this list.
Collection 2019
Sale 70% Off
Title for image